Introduction
 All your ideas and thoughtful arguments count for nothing if you cannot get them on the page in an accurate and effective writing style.
How you write says a lot about who you are. If your audience does not perceive you as professional or intelligent, they will not place value in the ideas you want to share, and they may not take you seriously.
The goal of this lesson is to strengthen your ability to identify and correct common errors in sentence and paragraph structure, identify and fix common grammatical errors, and make informed choices about the style and tone of writing for an academic context.
Students too often limit their success, both in academic and professional contexts, when they submit weak writing.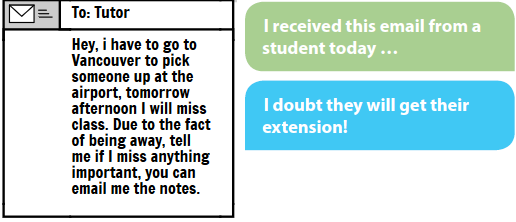 Note the several grammatical errors and the overly familiar tone in the sample email. These red flags alienate the reader. The message is presumptuous, impolite, and suggests the writer does not have respect for the reader.
To be taken seriously, both at school and in the work place, take the time to focus on the mechanics and tone of your writing. Make sure the paragraphs are well organized, make sure the sentences make sense, and make sure you fix any errors in grammar and style.
How to start?
Boot Camp 2 has eight lessons for writing clearly and effectively: four lessons are about writing strong sentences and the other four are about writing strong paragraphs. You can use these lessons and the models provided to help you complete the practice exercises. Remember, each person has unique problem areas. Focus on the suggested tips in areas you find particularly difficult.
Go ahead and complete Boot Camp 2 in order, or dip in and try any of the sections that appeal to you!