To produce a critical comparison, we apply all the summary and critical thinking work about two articles to an outline based on shared categories for comparison. We need to make decisions about how best to organize a comparison, depending on the type of information involved.
This lesson begins by introducing the basic components and structure of a comparison argument. Then, you will practice by filling in an outline template for the comparison essay.
Note
This lesson draws on knowledge of two articles. If you haven't already, you will want to read them now.
Prensky, M. (2001). Digital natives, digital immigrants. On the Horizon, 9(5). Retrieved 5 October 2001, from http://www.marcprensky.com/writing/Prensky%20-%20Digital%20Natives,%20Digital%20 Immigrants%20-%20Part1.pdf
Wohlsen, M. (2016). Digital literacy is the key to the future, but we still don't know what it means. WIRED. Retrieved 14 April 2016, from http://www.wired.com/2014/09/digital-literacy-key-future-still-don't-know-means/
You do not need to have completed Lesson C to enjoy this lesson. If you haven't completed it, you can use the following resources to help you in this lesson:
Identify Components of a Comparison
A comparison argument might be the basis of an entire essay or a smaller part of a larger work. In every case however, a comparison always includes these 3 core components.
Components of a Comparison (Reference)
Items to be Compared
Basis of Comparison
Categories of Comparison
What two things will be compared?
Why are we comparing the two items? What is our purpose and goal?
How will the items be compared? What elements of the items will be compared?
Example:

Articles by Wohlsen and Prensky.

Example:

Compare and contrast how Wohlsen and Prensky define digital literacy and what role education should play in achieving it.

Example:

We will compare and contrast based on three categories – definition of digital literacy, criteria for achieving it, and the role of education in achieving it.
Select a Structure of Comparison
Comparison arguments can be structured in two different ways: by item or by category.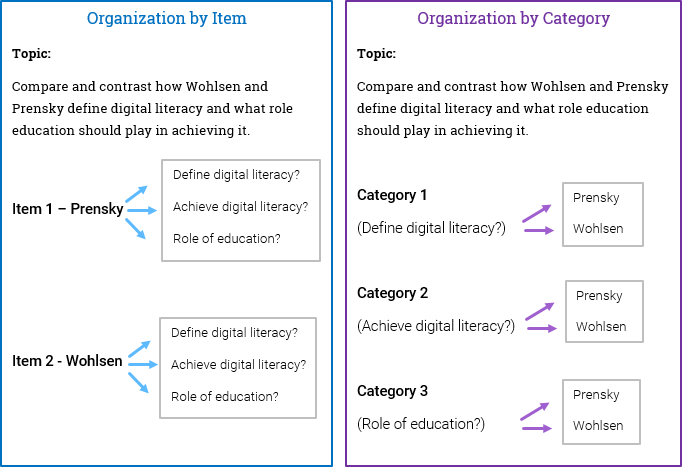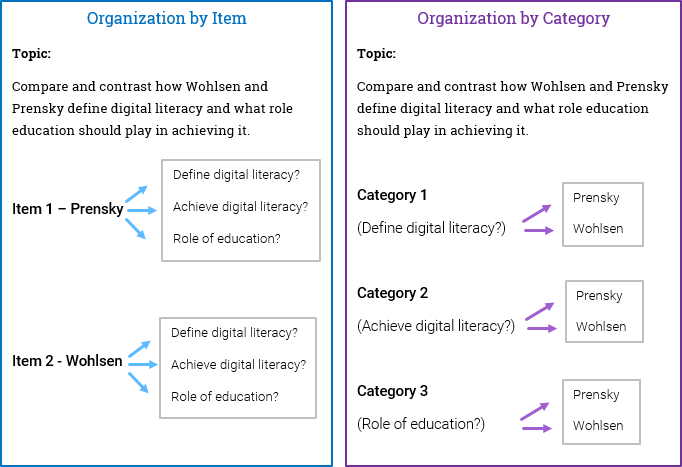 When deciding how to structure a comparison argument, we need to decide between these two basic structures. To do this, we need to consider the advantages and disadvantages of each structure.
Answer the following questions to reflect on when and why you might best use each comparison structure.


Completing the Outline
We have already done plenty of work towards developing our critical comparison essay. We know why and how we want to compare the articles. We have completed a large amount of summary work and critical thinking to support our content.
The final stage is to put all this work into an outline, ready for writing.
Consider this template for developing an outline for a critical comparison essay.
Critical Comparison Outline Template (Reference)
Introduction
Information to include:

What is being compared?
Why are they being compared? What is the topic or basis of comparison?
How will they be compared? What are the categories of comparison?
What will we learn about the topic when we've read this comparison? What is the thesis?

Explore each Category in a series of paragraphs.
Information to include:

What is the category? Give an introduction to the idea or issue.
What does each author have to say about this idea or issue?
How does each author develop their particular position about the idea and why? (Look at evidence.) What motivates each author to make the argument that they make? (Look at assumptions.)
What are the key points of similarity and difference in each author's position?
What are the implications of each author's position?
Do you have thoughts about the value or implications of these different positions?

Conclusion
Information to include:

What do we learn about the topic in this essay?
What conclusions does the essay make about the significance of each author's ideas and the consequences of each author's arguments?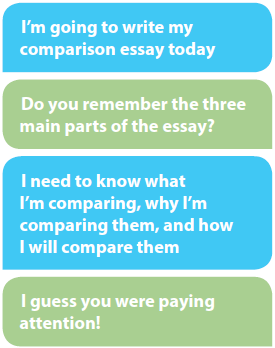 Now, it's your turn. Using the template, put together an outline for the critical comparison of the Prensky and Wohlsen articles.
Follow the questions in the outline template and fill in the content. Use the information and ideas about the articles that you have developed through this lesson. You can also use information from the sample answers. As well, you may find that you get new ideas about the articles as you are working. Go ahead and include them too.
When you have finished this activity, you can check the sample answers.