Understanding an author's argument is only the first step in a larger critical thinking process. Now, we need to consider what each article says as part of a larger conversation in society.
Note
This lesson draws on knowledge of two articles. If you haven't already, you will want to read them now.
Prensky, M. (2001). Digital natives, digital immigrants. On the Horizon, 9(5). Retrieved 5 October 2001, from http://www.marcprensky.com/writing/Prensky%20-%20Digital%20Natives,%20Digital%20 Immigrants%20-%20Part1.pdf
Wohlsen, M. (2016). Digital literacy is the key to the future, but we still don't know what it means. WIRED. Retrieved 14 April 2016, from http://www.wired.com/2014/09/digital-literacy-key-future-still-don't-know-means/
You do not need to have completed Lesson A to enjoy this lesson. If you haven't completed it, you can use the following resources to help you in this lesson:
Writers like Wohlsen and Prensky do not write in a vacuum, isolated from the world. Just the opposite, they write in response to other writers, sharing and debating ideas. And more, the arguments and perspectives they send out are shaped by what they have read and been influenced by in the past.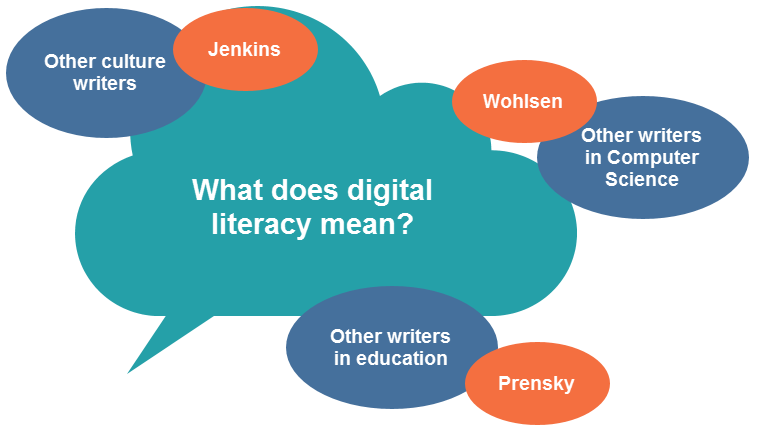 Once we understand that articles are part of on-going conversations in society, we can begin to use those articles to map these larger social conversations. For example, we can look at several articles on the topic of digital literacy. We can begin to ask some questions: What do different writers have to say about this topic? How do different writers define digital literacy? Why is it defined in different ways? What do writers in the field of computer studies have to say about this topic? What do writers in the field of education have to say? Do writers in different fields have different views on this topic? Why?
The questions can go on and on. By asking these kinds of questions, we are exploring the different arguments and assumptions about a topic in our society. We will start by developing a comparison of just two arguments about digital literacy – Wohlsen's and Prensky's.
We will do this in two steps. In Step 1, we will look at a process for identifying issues and debates in an article. In Step 2, we will practice matching the information from each article to define a shared topic.
Asking Questions About An Article
Our challenge is to connect an article to bigger issues and debates in society and gain a sense of how that article fits into those debates. To do this, we can ask a series of questions about the goal and audience of the article.
Identifying Issues and Debates Template (Reference)
Initial Questions
Use these questions to start thinking about the issues and debates in the article.
What is the author's main argument?
Answering these questions helps us to think about the writer's motivations and goals. Are they trying to solve a problem? Are they trying to add to our understanding of a topic?
What is the author's main goal? Why did they write the article?
What field(s) of study does the writer connect with?
Who is the writer's audience?
Issues and Debates
Use these steps to present the issues and debates

Using the ideas from above, identify two or three different issues or debates in the article.
Indicate what position the article takes on that debate.

Issue or Debate #1

Describe the issue or debate.
What position in the issue or debate does the author take?

Think of an issue or debate as a question that many different people might want to explore and answer. How does this writer choose to approach the question? Answer it?
Issue or Debate #2

Describe the issue or debate.
What position in the issue or debate does the author take?

Issue or Debate #3

Describe the issue or debate.
What position in the issue or debate does the author take?

Add more issues or debates as you find them.
It's your turn to practice. Using the practice template, you will identify the issues and debates explored in both Wohlsen's article and Prensky's article.
Complete the practice template for each article. Use the information in the reverse outlines to help you. Remember, you can print sample answers of the reverse outlines for each article and have them in front of you while you complete this exercise.
Let's do Wohlsen first:


Now, let's do the same for Prensky:


Defining a Topic
Usually, after you have worked with different articles for a while as we have been doing in this lesson, you begin to have a sense of what they are about and what connections they have to each other.
The next step is to explore these connections to define a shared topic for the critical comparison. The shared topic will form the basis of your comparison of the two articles and your goal will be to compare and contrast each author's unique approach to the topic.