Introduction
We all feel a sense of accomplishment when we finally finish an assignment. It can be very satisfying to see the final product of all our hard work. And let's face it, with the demands of school, family and work, sometimes it's all we can do to get that essay finished before the due date!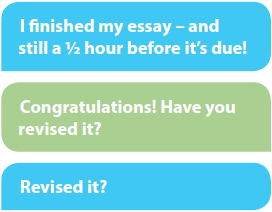 But, let's be honest here. To really give yourself a chance to be successful at writing, you need to leave time – and energy – for revision. Yes, revision. That means reading your essay over again to find all the weak bits. It isn't fun for anyone, but it can make the difference between appearing competent and appearing lazy.
Boot Camp 4 presents a global editing process that you can apply to all your future writing projects. You will have an opportunity to learn and practice your skills in revising essay focus, structure, organization, documentation, and writing.
Getting past the excuses
In truth, our reluctance to revise our written work is grounded in many excuses. We need to overcome these to become effective writers.

How to Start
Boot Camp 4 has 5 lessons that make up the steps of a global editing process. Taken in order, the steps move progressively from big picture questions about the scope and structure towards detailed improvements in writing and documentation.
Menu
Go ahead and complete this boot camp in order, or dip in and try any of the sections that appeal to you!